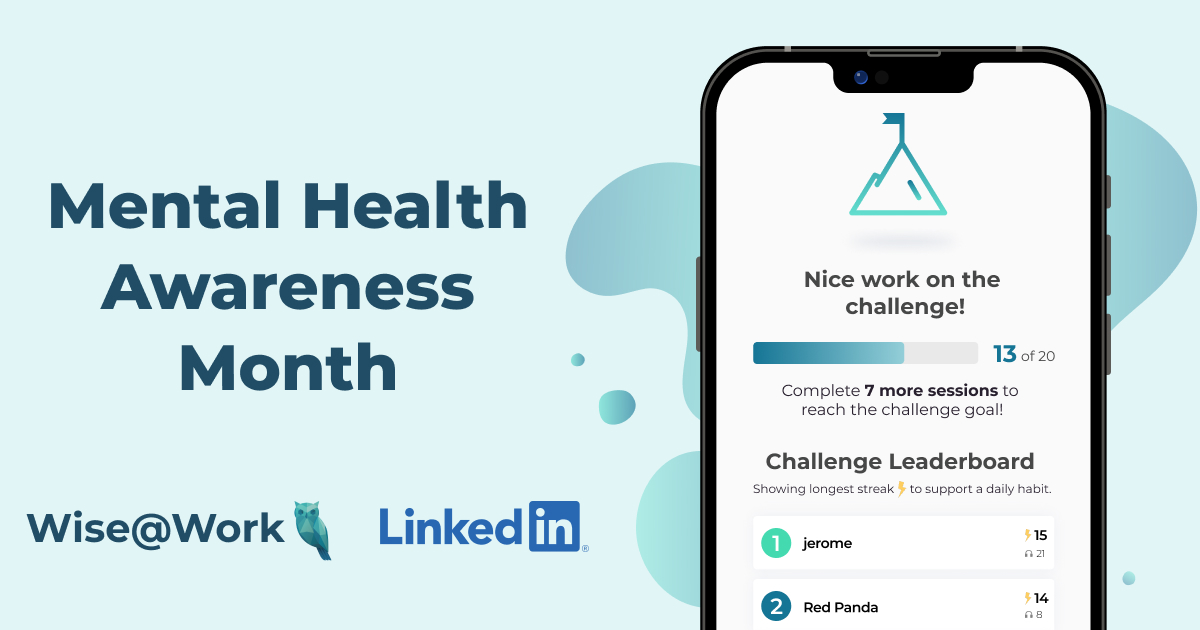 Mental Health Awareness Month is upon us, and Wisdom Labs is proud to once again partner with LinkedIn for our latest 31-Day Mental Fitness Challenge, a free workplace wellbeing initiative for companies to enjoy this May.
Reducing stress, anxiety, and loneliness in the workplace has long been the mission of Wisdom Labs, leading to the development of our Wise@Work digital product suite for workplace wellbeing and behavior change.
However, the added stress of the COVID-19 pandemic has only accelerated the existing need for businesses to be proactive about mental wellness support. Beyond simply offering top-of-the-line benefits, employers must also take on the responsibility of driving engagement with wellness initiatives to achieve the desired benefits associated with employee wellbeing cultures.
One of the best ways to boost employee wellness is to build community around positive mental health activities, such as mindfulness and meditation practice during working hours. This simple practice helps reduce the stigma associated with prioritizing mental wellbeing at work, while also ensuring employees are comfortable spending time on their mental health throughout their workday.
What is a Mental Fitness Challenge?
The Mental Fitness Challenge is a guided month-long initiative to boost mental wellbeing that you can easily provide for your entire staff in a few minutes per day. Wisdom Labs is proud to support these completely free, no-strings opportunities designed to infuse mindfulness into work culture, and daily employee life.
To date, more than 300 companies have taken part in a Mental Fitness Challenge with Wisdom Labs, with employees reporting a 19% average increase in Calm and Balance after engaging with the Wise@Work App for a few minutes per day.
During the challenge, an entire company's employees will be able to complete short 5-15 minute audio mindfulness practices on their smartphone (via the Wise@Work App), with sessions from top researchers, psychologists, wisdom teachers, and conscious business leaders. Individuals are encouraged to complete 20 practices during the month, helping them to develop an ongoing mindfulness practice that will benefit the entire company.
To help with engagement, Wisdom Labs recommends providing incentives for employees to participate. For those leading a challenge in their workplace, you will receive a list of individuals who met the challenge at the conclusion of the event.
As a part of our latest partnership with LinkedIn, we are also thrilled to welcome Director of Global Wellness, Michael Susi, for a conversation on how businesses can Create Cultures of Mental Wellbeing, taking place live, on May 25th at 12pm EST / 9am PST. Be sure to listen in, even if your company is not participating in the May 2022 Mental Fitness Challenge!
Learn more about the next Mental Fitness Challenge or join the upcoming webinar below: