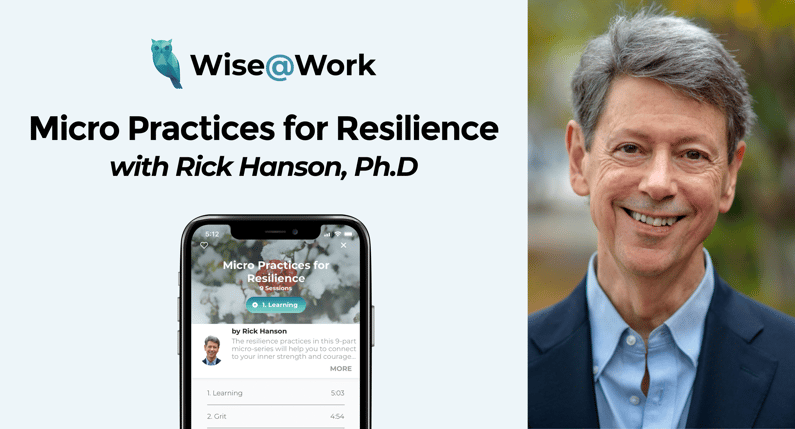 Wisdom Labs is proud to announce that renowned psychologist, mindfulness teacher, and author Rick Hanson is the latest teacher to join the Wise@Work App.
In his new 9-part mindfulness series entitled Micro Practices for Resilience, Rick explores Gratitude, Confidence, Motivation, and Generosity using short practices you can listen to anywhere.
Throughout the Micro Practice series, listeners will explore concepts including Visualization, Gratitude, Cognitive Reappraisal, and Mindfulness of Thought and Emotion using 5-minute audio lessons that can be a quick resource between meetings or before starting a busy workday.
Right now your Listen to Rick's session on Courage, which includes an exploration of the 6 elements of wise speech. Or, Download the Wise@Work App for your mobile device to explore the entire series as well as hundreds of practices built for the workplace from experts like Jack Kornfield and Tara Brach.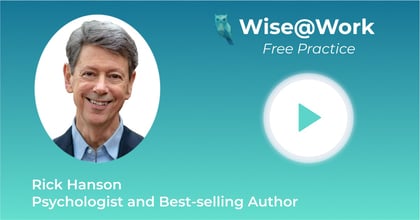 Rick Hanson, Ph.D., is a psychologist, Senior Fellow of the Greater Good Science Center at UC Berkeley, and New York Times best-selling author. His books have been published in 29 languages and include Neurodharma, Resilient, Hardwiring Happiness, and more. He's lectured at NASA, Google, Oxford, and Harvard, and taught in meditation centers worldwide.